Class Lectures through Zoom
Meet with your instructor and other students in virtual classrooms. Lectures, workshops and discussions occur using the Zoom teleconferencing system. Simple to use, students share exciting discussion and engage in active learning with instructors and class mates.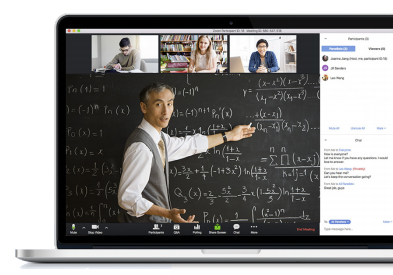 How do I prepare for a virtual meeting?
The first time you try to connect to a zoom room, you will be prompted to install Zoom. This small application installs quickly, but you can install it now to make that first meeting go smoother. To download and install zoom use the link at the top right of this page.
When you enter most meetings your camera and mic will be off. In order be seen, click on the camera icon in the lower left of your Zoom screen. To speak to the instructor or other students, click on the microphone icon (also in the lower left of your screen). You can join an empty room for a test meeting, to check that your microphone and camera (use the test meeting link in the upper left corner of this page).
How do I find my meeting room?
To join your a meeting you need either the Meeting ID or a web link to the room. Clicking on a web link to a Zoom meeting will open your Zoom application and add you to the meeting. To join a Zoom room using the Meeting ID, click on the enter meeting code link to the left. On the next page, enter your Meeting ID.
The left hand menu of your Canvas course may have a Zoom item that links to a list of regularly scheduled meetings. You can enter any of them, during the times listed, by clicking on the join button. Instructors may also send you Meeting ID's or web links to meetings in campus email, in Canvas mail or by adding a meeting to your Canvas calendar.
Do I have to come on camera?
That depends on the class. For most classes, it is not necessary to turn on your camera or your microphone. You can often ask questions and participate by turning on the chat box (the chat icon is on the bottom of your Zoom window). With workshops, review sessions, office hours and discussions turning on your Camera or microphone to ask questions and interact with your instructors allows you to participate in much the same way you would in a face to face class.
Do I need a computer?
Zoom installs on smart phones and tablets. Not all features are enabled and we do recommend using a computer if possible but most classes can be attended with mobile devices.
What if I miss a meeting?
Let your instructor know and ask if they recorded the meeting. If the meeting was scheduled in Canvas and recorded, the Zoom recording will be in the Canvas course in the Zoom tool > Cloud Recordings tab a few hours after the meeting ends.
Instructions for Joining a Meeting
Download

and install Zoom Client for Meetings.

Enter

a Zoom room by entering your Meeting ID.
Tutorials
We have Zoom tutorials with detailed step-by-step instructions in the student tutorials website.
Zoom Tutorials →
Getting Help
You can create a ticket for Zoom in the student help center.
Open a ticket →